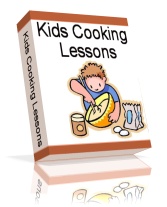 This weeks Summer Fun giveaway is sponsored by
Kids Cooking Activities
. Debbie Madson is the mom behind these wonderful e books that have recipes, tutorials, games, safety, and so much more. There is seriously so much information and fun in these books it's impossible to condense into a review. I learned so much from these books for both my children and I.
I knew that cooking with my children taught so many skills like math, science, reading, creativity, reading comprehension and more. But Kids Cooking also pointed out that children also learn geography and culture from ethic recipes, history from recipes pass down from generations, social skills and of course fine motor skills. I love cooking with my children. I think it is not only fun and educational but it builds confidence!
These e books can be printed and bound for use in classrooms, after school programs, homeschooling, boy and girl scout troops, and for home use. They have color photos and graphics. The lay out is easy to read. The instructions are clear and easy to follow. There are recipes/instructions for children of all ages.
The Cooking and Learning unit we received for this review has recipes, tutorials, lessons on manners, safety and more. The fun food facts portion not only has facts about foods but tells when certain fruits and vegetables are in season. The colorings sheets included are fun, some of them have crossword puzzles and other games on them. One of my favorites is the "cook with books" where a book is listed and there is a recipe that goes with it. There are cute "give a mouse a cookie" cookies that are adorable and fun for kids to help make! You could do a whole cooking themed party with the recipes featured, the fun coloring sheets, bingo and quizzes in this book.
The Kitchen science book has experiments that are fun and easy. It also points out reactions with food preparation that children can learn from. It includes sprouting, growing little plants, and even a "
Jumping Raisins
" experiment. EEEEK.
Kids Cooking Activities also has a other units. The
Just For Fun unit
has theme dinners, kids cooking parties, kid friendly finger foods and dips, and a fun with foods book. The
World Studies and International
menus sounds so interesting and it comes with Kids Food Science experiments.
Kids Cooking Activities also has a sister site
www.kids-meal-ideas.com, that has more menu help and ideas for feeding children.
These e books are fun, well thought out and such great learning tools! There's also a book for sewing, now I KNOW I need that!
You can purchase units or individual books on their site HERE.
Visit Kids Cooking Activities on Facebook HERE.
Would you like to win the Cooking and Learning unit e-book right here on Give Peas A Chance? Please click "read more" and enter below through rafflecopter. Read rules for entry below also.
*All opinions in this review are my own and I was not compensated in anyway for these reviews. I was sent product to review.*